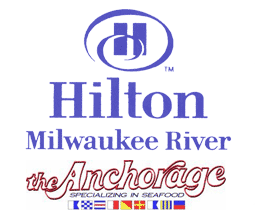 4700 N. Port Washington Road
Milwaukee, WI 53212
Phone: (414) 962-6040, Ext. 602
s Fax: (414) 962-6166
Contact Us: click here
"A Tradition Of Dining Excellence For More Than 30 Years"
Located in the Hilton Milwaukee River Hotel, The Anchorage is the proud recipient of a 3 ½ out of 4 star review from Mr. Dennis Getto, the esteemed restaurant critic for the Milwaukee Journal Sentinel.
Long-known for its unique variety of seafood creations, The Anchorage also features a strong selection of steaks, chops, and pasta entrees.
Coupled with scenic views of the Milwaukee River, The Anchorage presents its dining guests with casual elegance in a panoramic setting that truly distinguishes itself as a premier dining destination in Milwaukee!
HOURS OF OPERATION
Monday through Friday – 6:30am to 2:30pm / 4:30pm to 10:00pm
Saturday – 7:00am to 2:30pm / 4:30pm to 10:00pm
Sunday – 7:00am to 1:00pm / 4:30pm to 9:00pm
FOR RESERVATIONS
(414) 962-4710
Hilton
Milwaukee River
4700 North Port Washington Road
414-962-6040 (Phone) 414-962-6166 (Fax)