Welcome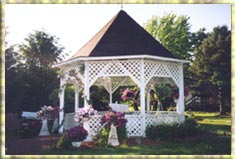 Congratulations on your engagement!
Thank you for considering the Dorf Haus for your wedding reception. We look forward to the possibility of hosting your very special day.
The Dorf Haus offers you our Bavarian Room, which seats up to 225 people for a sit down dinner or up to 450 people for a buffet. You will enjoy your own private bar, wooden dance floor, and a large two-tiered deck that takes you down to our flower garden and gazebo. You may also keep in mind the flower garden for an outdoor wedding, rehearsal cook-out, or a backdrop for pictures. We also offer two smaller rooms for more intimate gatherings such as
rehearsal dinners, showers, or gift openings.

If you have any questions or would like to reserve a date, please call me at the number below.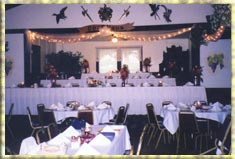 Whether it's the bridal shower, rehearsal dinner, or reception, we will take care of all the details to make certain your event runs smoothly so you can relax and enjoy your special day.
I look forward to hearing from you soon.

With warmest regards,

Rebecca Maier-Frey
Marketing & Banquet Manager
Dorf Haus
German and American Supper Club
and Banquet Facility
8931 Hwy. Y
Sauk City (Roxbury), WI 53583
Phone: (608) 643-3980
Fax: (608) 643-4434
Contact Us: click here